A snowshoe adventure is a fun & rewarding way to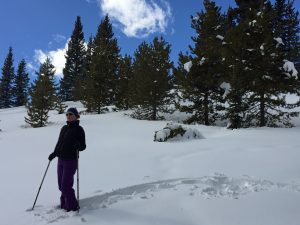 get outside and play in the snow during Steamboat's winter season.
Do your knees need a day off from skiing or snowboarding?
Do you seek the bragging rights of a "multi-sport day"?
A snowshoe expedition is a great way to spend a time together with friends and family.  Snowshoeing is easy to learn, relatively inexpensive, enhances cardiovascular fitness, and poses little risk of injury.
There are a number of great snowshoe trails around Steamboat Springs.  Check out Howelsen Hill, Fish Creek Falls, the Steamboat
Ski Touring Center, and the Haymaker golf course.  The Steamboat Ski Resort also offers a variety of guided snowshoe tours.  A guided tour is a great way for first-timers to try the sport in a safe environment.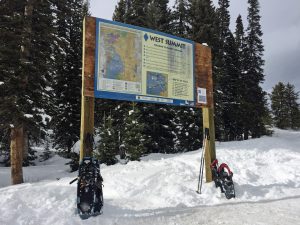 Snowshoes can be rented from many ski and outdoor gear shops throughout Steamboat Springs.  You can also use the same outerwear you wear for skiing and snowboarding.  Dress in several light layers because once you get moving, you'll likely find yourself feeling a bit overdressed.  Be sure to pack a heavy insulated layer just in case the weather changes during your trek.  Consider bringing some extra dry clothes to change into at the end of your snowshoe adventure.  Don't forget to bring lots of food and water, because you'll be burning nearly 50% more calories than you would on a typical hike or run.  Snowshoes can also damage pristine cross-country ski tracks, so try to walk parallel to existing Nordic trails whenever possible.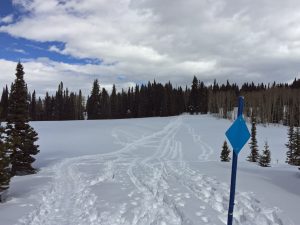 We recently spent the day exploring the West Summit Loop atop Rabbit Ears Pass.  Located about 10 – 15 miles from the resort, the West Summit Loop is one of our favorite snowshoe trails outside of the city limits.  These trails are challenging without being overwhelming.  You'll find a countless number of cool spots to enjoy a snack, jump off rocks, soak in the views, and frolic in the powder.
The West Summit Loop offers a network of interconnected trails designated for non-motorized use.  There is ample parking at the trailhead, and the route is well-marked by Blue Diamonds attached to stakes and trees along the way.  The trail never ventures too far away from Highway 40, so it's fairly easy to keep your bearings on a clear day.
There's so much more to winter in Steamboat than just skiing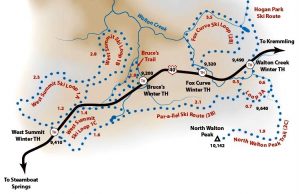 and snowboarding.  There are a variety of scenic snowshoe hikes throughout Steamboat Springs. You won't encounter any lift lines or big crowds, but you'll likely discover open meadows, and panoramic views, along with feelings of accomplishment at the end of a great workout.
Always use caution when traveling in the backcountry, check avalanche and weather conditions before you venture into the wilderness, and be sure to bring a backpack filled with plenty of additional food, clothing, and water.