More Skiing & Riding Than You Can Imagine On Champagne Powder© Snow
STEAMBOAT IS A COMPLETE MOUNTAIN RANGE
Steamboat is actually a complete mountain range: Mount Werner, Sunshine Peak, Storm Peak, Thunderhead Peak, Pioneer Ridge, and Christie Peak. 2,965 acres (1200 hectares) of permitted terrain offer a diversity of trails for all levels of ability. Gladed areas of Pioneer Ridge, Sunshine and Storm Peak are Steamboat's particular claim to fame, with legendary Champagne Powder® snow in the trees for the most avid powder hounds.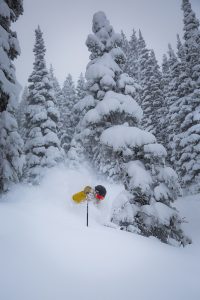 LOCATION
Steamboat, located in northwest Colorado, 160 miles/267kms northwest of Denver, is an easy three-hour drive from Denver. Take I-70 west through the Eisenhower Tunnel to the Silverthorne exit (#205), then go north on Colorado Highway 9 to the town of Kremmling, then west on US 40 over Rabbit Ears Pass. Steamboat is accessible by nonstop air service from seven major U.S. airports on American, Continental, Delta, Frontier and United Airlines in addition to connecting service from over 230 other domestic and international cities.
TERRAIN PARKS
Mavericks Superpipe is a freerider's dream. Mavericks is 450 feet long, 56-feet wide and has 18-foot walls, and a 22-foot transition. Steamboat's terrain park adjacent to Mavericks features an outdoor sound system, a variety of rails-kinked, sliders, rainbows, "s" mailboxes, double barrel, and Mini-Mav, a miniature version of the superpipe with eight-foot walls, perfect for novice riders. Learn more about our terrain parks today.
LIFT SYSTEM
Gondola (8-passenger): 1
High-Speed Six: 1
High-Speed Quads: 6
Triple Chairlift: 5
Double Chairlift: 2
Surface Lift: 1
Secondary Lifts: 2
Total Lifts: 18
Surface Lifts for Snow School: 5
Uphill Capacity: 41,026 per hour
GPS COORDINATES
40º 28' 35" N; 106º 49' 36" W
ELEVATIONS
Base Elevation: 6,900 feet/2103 meters
Christie Peak Elevation: 8,020 feet/2444 meters
Mid-Mountain Elevation: 9,080 feet/2768 meters
Summit/Mt. Werner Elevation: 10,568 feet/3224 meters
Vertical Rise: 3,668 feet/1118 meters
TRAIL SYSTEM
Permitted Acres: 2,965 acres/1,200 hectares
Trails: 165 named trails
Trail Classification: 14% Beginner 42% Intermediate 44% Advanced
Longest Run: Why Not – over 3 miles/4.8km
SNOW
Annual Snowfall: 336″/854cm
Snowmaking: 375 acres/152 hectares