No matter the season or the weather, Steamboat offers a ton of fun, year-round pursuits for children of all ages.  Whether you're taking a rest-day during your ski week, or looking for kids activities during inclement weather, here are a few great ways to keep the little ones busy and smiling in Steamboat Springs, Colorado.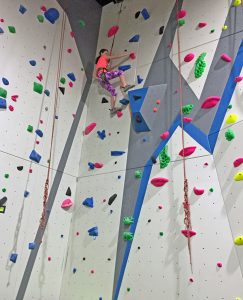 INDOOR CLIMBING GYM
One of my kids' favorite year-round activities is a visit to the indoor climbing walls of Love Climbing Adventures.  They offer single and multi-day passes with all the climbing gear included in the rate.  Their staff is experienced and engaging, and their climbing routes are always changing.
POTTERY PAINTING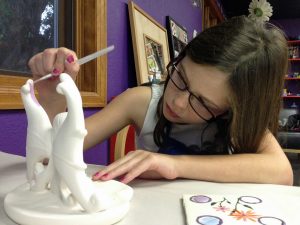 Painting pottery is a popular way for us to spend time together as a family, and a great opportunity for my parents to connect with their grandchildren during their Steamboat visits.  Over the years, painting pottery has become a family tradition for us, and no matter where we travel on vacation, we always seek out a local pottery painting studio.  It's a great way to meet local artists, create a personal souvenir or gift, and a creative distraction from screen-time.
BUMPER CARS
Howelsen Ice Arena is the only rink in Colorado that offers Bumper-Cars-On-Ice.  Bumper cars are generally open during public skate sessions, providing two fun activities in one place.  Call 970-871-7033 or check their website for scheduled times and reservations.  www.steamboatsprings.net/ice
ESCAPE ROOMS
One of Steamboat's more recent activities, "escape rooms" offer creative and intriguing puzzles sure to entertain everyone.  Find clues, solve puzzles, and collaborate with other players to escape from a themed game room.  Games last about an hour, and escape rooms are a great team-building exercise for groups, and a fun way to bond as a family.
OUTLAW MOUNTAIN COASTER

Located at the base of the Steamboat ski resort, take a ride on North America's longest mountain coaster.  With more than 400' of descent, and over 6,000 feet of track, the Outlaw mountain coaster features dips, waves, turns, and 360 degree circles.  Located on the base area promenade, the mountain coaster is surrounded by other summer-time attractions, including mini golf, an outdoor climbing wall, and the Burgess Creek "beach".  You can even take a virtual ride on the Outlaw Mountain Coaster.
BOWLING
The Snow Bowl Bowling Center is a popular place for family fun.  Renovated in 2017, Snow Bowl features 12 lanes (some with bumper lanes), an arcade, full-service bar and a menu of finger foods.
WATER SLIDES
Located downtown, the Old Town Hot Springs offers two exciting water slides for kids of all ages.  Parents can relax in the hot springs while energetic kids take trips down the two tube slides.
POKEMON GO
Kids who play Pokémon Go always enjoy exploring and training in new areas.   There are hundreds of Pokémon Go landmarks around Steamboat Springs, and a stroll downtown or along the Yampa Core Trail is likely to present new Pokémon's not typically found in your home region.