If all you witnessed was Winter Carnival's Night Extravaganza, you may think it was some sort of crazy witchcraft, voodoo sort of ritual. There's all sorts of flames and fireworks, smoke and other glowing devices eerily filling the night sky and streaming down the slopes of Howelsen Hill. Mix in young children skiing with live torches and you may wonder why the powers that be haven't shut the whole thing down.
National Geographic rated Steamboat's Winter Carnival one of the 10 Best Winter Carnivals in the world
Well the Steamboat Springs Winter Carnival is not a gathering of witches, but rather a time-honored tradition steeped in the history of Ski Town USA. Over a hundred years ago the community of Steamboat Springs began this seasonal tradition of gatherings, ski jumping and cross-country ski events to help residents cope with the long, cold, snowy winters in Routt County. This weekend will mark the 105th year of the Steamboat Springs Winter Carnival as residents and visitors alike will gather to celebrate winter, and experience what National Geographic rated one of the 10 Best Winter Carnivals in the world.
Steamboat's Western Heritage Interwoven with Ski History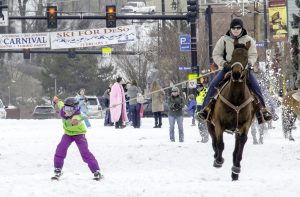 Every day of the Winter Carnival is full of exciting events and competitions where local athletes and the general public are invited to participate and show off for the crowd. Saturday and Sunday's Street Events are the most popular and entertaining to watch. It's also where Steamboat's rich western heritage and storied ski traditions become interwoven. Lincoln Avenue, Steamboat's main drag, is closed and covered with over 400 tons of snow where horses and riders from long-time local ranching families pull crazy kids, some as young as 6, down the snow-covered street. The youth hold on for dear life as cowboys spur their horses into increasing speeds. Some skiers weave through a slalom course, some sail over the donkey jump, while others grip it and rip it in a pure test of speed. The last street event of each morning is one for the adults…the shovel race. Imagine sitting or lying down on the business end of a shovel while the handle is tied to a rope being pulled by Routt County's fastest equine. This one is for the geniuses in the crowd and the winner deserving of a Darwin Award.
One More Saturday Night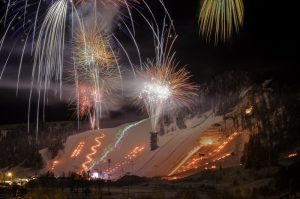 While the Street Events are fun and exciting to watch (or participate in), the main event and true celebration happens on Saturday evening…the Winter Carnival's Night Extravaganza. It's a wild show to watch from the base of Howelsen Ski Area. The crowd is teased early on with cross country skiers carrying torches and zooming around the base until alpine skiers light up the slope above with similar torches as they carve down the face. This usually leads to ski patrol members launching fearlessly into the night sky off the Nordic jumps through a fiery hoop, all carrying lit torches until one caps it off by dragging a flaming toboggan…you know, the ones they use to evacuate an injured skier from the higher slopes. Meanwhile, freestyle skiers are pouring themselves down the bump course wrapped in glowsticks and throwing flips and 360s off the kickers. Throughout the evening the fireworks get progressively bigger. The ski slope above is filled with skiers strapped with roman candles, some dragging rescue sleds loaded with fireworks. Eventually the lighted man skis down in a suit powered by a 12-volt D.C. gas recombination battery, loaded with 32 Roman candles, 12 sky rockets and a metal cylinder mounted on a football helmet studded with flashing lights. Pyromaniac much? Don't leave before the final fireworks display. It's usually a doozy and being right at the base it feels as though the fireworks are raining down right above your head.
The Steamboat Springs Winter Carnival is a great way to experience Steamboat's western heritage mixed with it's historic ski culture. It being an Olympic year makes it all the more exciting considering several kids who've participated in these events and skied these slopes will be in PyeongChang representing the USA and their hometown, Steamboat Springs.