Skiing and snowboarding in a high alpine environment means exposure to cold and wind from time to time.  Dressing in breathable layers will keep your core warm, but your extremities might still suffer on cold days.  Don't let frozen fingers and toes spoil your next knee-deep powder day.
Mittens
Switching from gloves to mittens is the single best way to ensure warmer hands on the mountain.  Mittens may not offer the same dexterity as gloves, but they will definitely keep your hands warmer.  Mittens aren't my everyday choice, but like most locals, I keep a pair of mittens handy J to conquer those bitter cold powder days.
Hand Warmers
Adding an additional source of heat keeps your hands warm on the coldest of days.  Place the hand warmer on the top side of your hand (not the palm) where all the blood flows.  Hand warmers also help keep cell phones or other batteries working, as rechargeable batteries can die quickly in the cold. Remember:  Purchasing hand warmers in bulk at before you go skiing costs about the same money as just one pair bought in desperation at the resort.
Glove Liners
Similar to dressing in layers, adding a second layer to your glove setup will certainly help your hands.  Wool liners will keep your hands warm and dry, but I prefer using thermal-reflective glove liners (such as Seirus) or liners with metallic threads.  These effectively conduct heat around your entire hand, especially when you add a hand warmer as a heat source.  You can buy these types of liners at Steamboat Ski & Sport and most other ski shops around town.
Wool Socks
When it comes to keeping your feet warm, wear one thin wool sock.  A thinner sock leaves more room for your foot to breathe, keeping your feet warmer on the slopes.  Avoid cotton socks that trap in moisture and cause cold feet. Wool socks wick away the moisture from your skin, keeping your feet dryer and warmer.  You can grab a pair of Smartwool or Point 6 ski socks pretty much anywhere in Steamboat.
Comfy Boots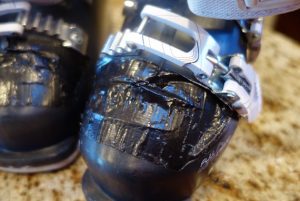 Bring your boots inside overnight so you start the day with warm, dry boots.  Wear properly fitted boots and avoid over-tightening your buckles.  Your ski boots should allow proper circulation because when blood is flowing, your feet stay warm.  Boots that are too snug can restrict blood flow, resulting in cold feet.  Try unbuckling your boots before the next chairlift ride and wiggle your toes while you're on the lift.  If you suffer from chronic cold feet, an investment in battery powered boot heaters will be money well spent.
Some die-hard powder hounds place a strip of duct tape over the tip of their boot to prevent moisture from seeping inside their boot when it melts.  Even if this doesn't actually work, a little duct tape always gives you more credibility in the lift line.