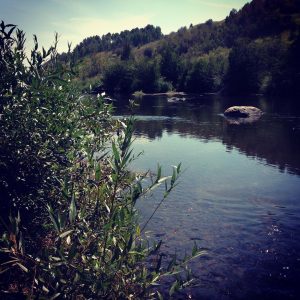 One of the quintessential activities to complete your amazing summertime visit to Steamboat Springs is tubing on the Yampa River.  There are few other activities I have participated in in my life that are more relaxing while still being exhilarating than this iconic adventure. This awesome meandering body of water can be the best way to travel into downtown. There are several ways to do this but it is extremely important to Respect the Yampa.
If you are inexperienced in floating a river DO NOT go to the local department store, purchase tubes and hop in. This can have a variety of negative consequences. For the novice I recommend visiting one of the business in Downtown Steamboat Springs. Both Bucking Rainbow and Backdoor Sports are excellent choices and offer shuttle service back to where you put into the water.
For all here are some key items to remember when you go tubing the Yampa River:
Always check the weather before any outdoor adventure. A sudden thunderstorm can halt a river trip. I can tell you from experience that is not fun to walk home in. Also check the flow of the river. 700 cubic feet per second, CFS, is the predominantly safe number to look for. Anything significantly higher than that can be dangerous for tubing.
If you are going on your own do not get in the river higher than Fetcher Pond. This is the designated access and has plenty of parking and restrooms.
Footwear should be sandals like aqua socks, Chaco's or Teva's not Flip Flops. You will be guaranteed to lose your flip flops.
Carrying important items in proper waterproof containers make a world of difference. Many a cell phone has been terminated by relying on a Ziploc instead of a dry bag or Otter box.
Sunscreen is key to any outdoor activity and an enjoyable float. Smother it on and reapply when needed.
No glass on the river. Bring plenty of water with you but not in glass containers.
DO NOT LITTER!! This is an incredible section of natural beauty and tremendous efforts are made to keep it that way. Do not be that person. The locals will have no problem expressing their opinions to a litter bug.
Respect your fellow river users. You will most likely see other floaters, boaters and fisher people. Always give people a wide berth to pass and be kind.
Always have an escape plan. Know the route you are taking and places nearby if you have to pop out for an emergency. Once you get past Rich Weiss Park, next to Rabbit Ears motel, there will be several "holes" that can easily flip you. The downtown stretch is definitely the most exciting.
Coordinate a shuttle or take the free bus. Drop a car off near where you are taking out. If you plan to bus it plan to dry out and deflate your tubes first. They will refuse service if you are wet with a full tube.
This leads into the final tip. It maybe tempting to bring items of influential interest with you but Alcohol is not helpful to a safe river trip. When you pop out downtown there is plenty of bars and restaurants with outdoor seating to dry out in the sun and safely enjoy a beverage. I highly recommend getting out at Sunpies. One of the more fun and raucous bars in town with great outdoor seating and food. Be safe, have fun and Respect the Yampa River!!