I am an early riser. I haven't always been this way, but being a ski bum for over 20 years I've learned the best way to get my fix is to be there early.
On powder days it goes without saying. Fresh snow does not last long, so being there well before the gondola opens is the only way to harvest lift serviced fresh tracks. But today I'm talking about freshly groomed slopes, often referred to as corduroy, cord, or just plain roy. The rear end of a snow cat, or the tiller, combs all the blemishes out of the snow and leaves leveled 1-2″ deep ridges that resemble the fabric of those previously popular trousers.
The Pros Make It So
Steamboat Resort employs an experienced crew of groomers who man state-of-the-art, GPS equipped snow cats. Each night a fleet of these cats are deployed across the mountain where they precisely manicure up to 50% of the trails. As an obvious point of fact, the fresher the snow – the nicer the groom, but even after a couple of weeks of drought these pros can deliver remarkably well preened slopes. They can smooth out a highly trafficked trail and even level out a mogul run, leaving behind nothing but velvety corduroy.
The early bird gets the worm….
However well the mountain is groomed the night before, the carefully combed snow does not stay that way for long. With each skier or rider that comes along, the fresh wales of cord dissipate.
No Need for Speed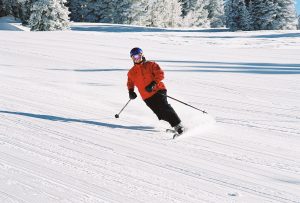 Many use the opportunity of smooth trails to break out the long boards, "take off the governor," and let loose their inner Flash. While I can appreciate the thrill of racing downhill at increasing speeds, I find myself more often enjoying the carve…sinking my edges deep into the supple snow, feeling my skis engage and flex and then release, propelling into the next turn. There's a sense of satisfaction and excitement to feel the performance of skis, boots, and legs acting as one machine. It also feels good to engage the full range of muscles needed to complete a run of giant slalom turns.
Get Out Early & Make It Count
Next day that you have free, get to the gondola early. It's more than worth it to rip a few turns on the freshly grooms runs. You're always going to find the best conditions first thing in the morning…powder day or not.